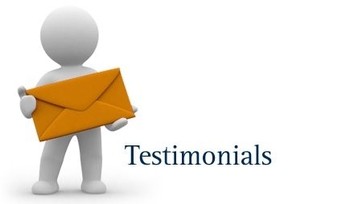 Below are just what a few of our satisfied fitness clients have to say about our fitness programs over the years:
(Note: Original & Signed testimonials are available for verification)
"I LIKE A LOT ABOUT RICK:
The holistic approach with nutrition, information articles and of course the age adapted exercises. The flexibility to meet in botanical garden and to postpone the scheduled dates, if cancelled appropriately. The very personal approach, the one to one dedication and the concern about aches and therefore adjusted exercises. The positivism in every exercise and training. Thank you Rick for seven years of dedication, enthusiasm and creativity to boost my metabolism and fitness. You are a great and always positive personal trainer, which I can recommend to anyone."
- Sibylle Gisi, International School President, Swiss
"(Rick) ... has a friendly, professional personality, ... a good motivator and flexible: when something changes in (my) life, (you) easily adjust the program/plans (accordingly) .... Thanks again for everything!!"
- Thera Hoebé, Homemaker, Dutch
"Rick caters to my needs for personal training, is always punctual and professional ... and definitely value for money as results show! Highly recommend!
- Marie Tham, Vice President (Banking), Singaporean
"Rick has helped me immensely in regaining my confidence and balance in life. His timeless focus and attention to form in each exercise, month after month, has been an inspiration. I have reached goals that I never thought I would be able to reach, and I owe it to Rick. Thank You, Rick!"
- Rosa Maria Quitadamo, Consultant, Italian
"One of the best things is the variety of exercises that you include. In the three plus years I have been using your service I do not think we have ever done the same workout routine twice. Even now you are still able to introduce exercises that I have never done before. It keeps the exercising really fun and interesting.... To start with I planned to use your services for 3 months to kickstart my workout regime - 3 years later I am still here. Just can't kick the habit."
- Kerry Allen, Homemaker, Australian
"I've been with you for almost 2 years now and am really pleased with the changes that have occurred in my appearance; no other personal trainer I have had has come close to this ! ... Your dedication and encouragement have been inspiring!"
- Yvonne Thom, Banker, British
"The tailored program to achieve my goals is GREAT... I like the focus on results and you can actually see and feel the benefits...."
- Jonathan Wood, Accountant, British
"(You are)... very flexible about the timing of the lessons ... and (you) show great concern for your clients... I think it is also good that you look at the whole picture: training, food and lifestyle...."
- Ĺsa Skogsfors, Homemaker, Swedish
"Thank You, Thank You, Thank You ...You have helped me to feel good about myself again and taught me that training can be FUN !!"
- Amanda Hall, Homemaker, British
"Thanks for working with me for the past year. I've learned a lot about fitness and myself....."
- Ronald Cellini, Company Director, American
"Thank You for helping me instill a proper exercise system in place. Your exercise methods are fantastic and I will bring them along with me wherever life takes me....."
- Ershvin Singh Charl, Overseas Undergraduate, Singaporean
"I've enjoyed your session (group exercise) and we like your style of coaching and (way of) motivating all participants to pull through the workout. Thanks for the service ....."
- Mdm Tan L H, School Principal, Singaporean
"Thanks ... I have really benefited from your (online) training program, .... and I can really see the improvements to my body.... "
- K W Tan, Laboratory Assistant, Malaysian
" ... a very approachable trainer...."
- Rennysa Bte Ithnin, Singapore Civil Defence, Singaporean

Check up also on the following:
Do connect with me on Twitter, Facebook & Blogger for the latest updates and news on fitness, exercise, nutrition and more!