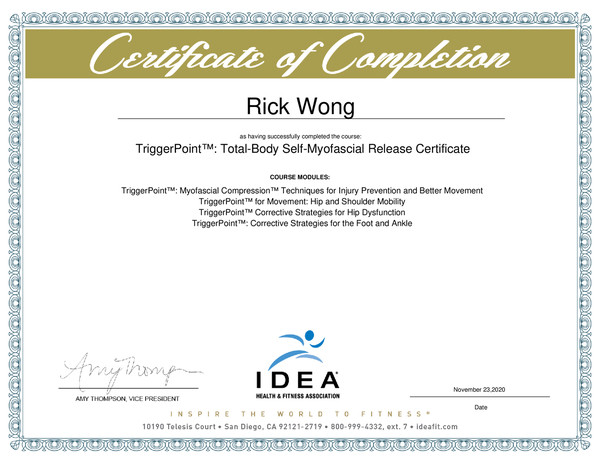 The above is the latest screenshot of our Master Trainer - Rick Wong's TriggerPointTM Self-Myofascial Release Certification attained in year 2020.
This is an Advanced Specialty Certification and has NO expiry date. It certifies the holder as a specialist provider of self-myofascial release techniques and methods.
The TriggerPointTM Self-Myofascial Release Certification is accredited by TriggerPointTM International and IDEA Health & Fitness Association and signifies the holder's proficiency and expertise in using foam-rolling and other self-myofascial techniques to help clients enhance their fitness performance, boost their recovery time, and reduce their risk of injuries.
Read up more on the Importance Of Trainer Verification And Validation.

Do connect with us on Twitter, Facebook & Blogger for the latest updates and news on fitness, exercise, nutrition and more!