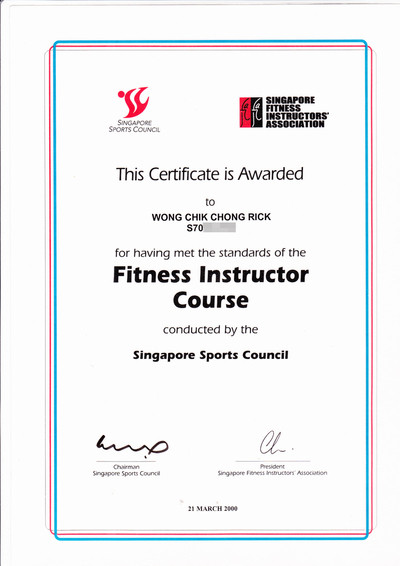 The above is the latest screenshot of our Master Trainer - Rick Wong's SSC/SFIA - FIC (Singapore Sports Council/Singapore Fitness Instructors Association - Fitness Instructor Certification) certificate attained in year 2000.
This is a National Certification of the Republic of Singapore and has NO expiry date.
The SSC/SFIA Fitness Instructor certification is accredited by the Singapore Sports Council, and demonstrates proficiencies and capabilities in implementing safe, effective and scientific-based exercise/fitness/conditioning programs for the general population at large.
Check out the Singapore Sports Council.
Read more on the Importance Of Trainer Verification And Validation.

Do connect with us on Google +, Twitter, Facebook & Blogger for the latest updates and news on fitness, exercise, nutrition and more!