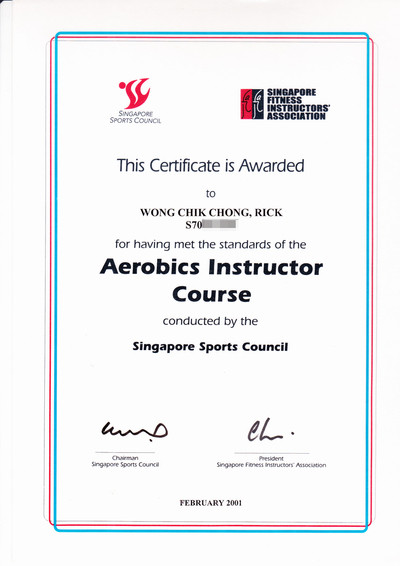 The above is the latest screenshot of our Master Trainer - Rick Wong's SSC/SFIA - AIC (Singapore Sports Council/Singapore Fitness Instructors Association - Aerobics Instructor Certification) certificate attained in year 2001.
This is a National Certification of the Republic of Singapore and has NO expiry date.
The SSC/SFIA Aerobics/Group Exercise Instructor certification is accredited is accredited by Sport Singapore (formerly known as Singapore Sports Council), and demonstrates the holder's mastery of the skills, techniques and coaching acumen required to design and lead all types of aerobics and group-based exercise classes safely, effectively and dynamically.
Check out Sport Singapore website.
Read more on the Importance Of Trainer Verification And Validation.

Do connect with us on Twitter, Facebook & Blogger for the latest updates and news on fitness, exercise, nutrition and more!