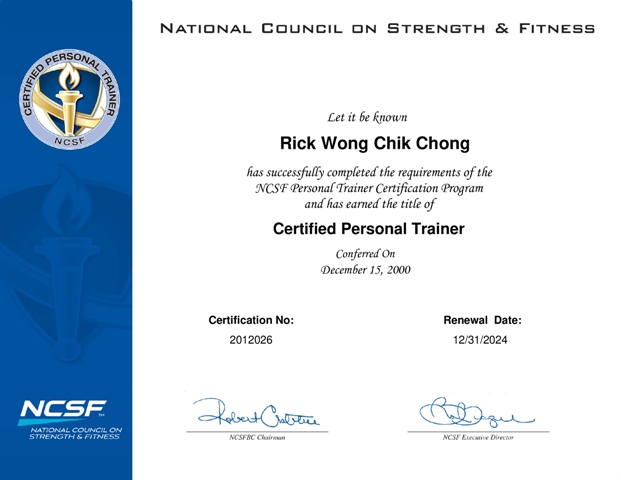 The above is the latest screenshot of our Master Trainer - Rick Wong's NCSF-CPT (National Council On Strength And Fitness - Certified Personal Trainer) certificate attained in December 2000.
This is a Primary Certification which is internationally-recognized and VALID through 31 December 2024 for its current cycle.
The above certificate has a renewal cycle of every 2 years, pending the attainment and completion of Continuing Education Units (CEUs) determined by the National Council On Strength & Fitness.
The NCSF Personal Trainer certification is accredited by the National Commission for Certifying Agencies (NCCA) of the United States Of America, and serves as an international benchmark for trainer competency, professional standing and ethical practice.
Being an NCSF-CPT certifies the holder to work one-on-one across all population groups, and earmarks the individual as a competent practitioner in the field of Personal Training, as well as possessing all the necessary expertise, aptitude and commitment to become a top-notch fitness professional.
Check out the National Council On Strength And Fitness
Read more on the Importance Of Trainer Verification And Validation.

Do connect with us on Twitter, Facebook & Blogger for the latest updates and news on fitness, exercise, nutrition and more!