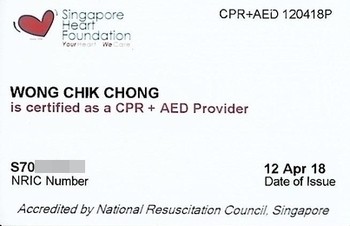 Front View Of Current CPR/AED Certificate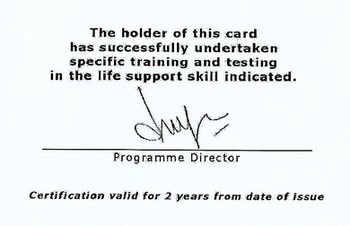 Back View Of Current CPR/AED Certificate
The above is the latest screenshot of our Master Trainer - Rick Wong's SHF (Singapore Heart Foundation) - CPR/AED (Cardio-Pulmonary Resuscitation / Automated External Defibrillator) certificate which was renewed on 18 April 2018.
It is currently VALID through 18 April 2020 for its current cycle.
Training and re-certification has to be repeated every 2 years at the Singapore Heart Foundation headquarters - to ensure that the holder's life-saving skills remain fresh, relevant and updated.
The CPR/AED certification is required as a MANDATORY certification for all Health/Fitness Professionals in the Singapore Fitness Industry, as it demonstrates the fitness professional's on-going commitment and responsibility to the overall well-being and safety of his/her clients.
The SHF CPR/AED certification is accredited by the National Resuscitation Council Of Singapore - which serves as the governing body in Singapore for ensuring standardization and professional practices in the teaching and dissemination of resuscitation skills.
Being CPR/AED certified ensures that your trainer is equipped with the necessary life-saving skills and confidence to handle cardiac emergencies - as and when they arise.
Check out the Singapore Heart Foundation
Read more on the Importance Of Trainer Verification And Validation.

Do connect with us on Twitter, Facebook & Blogger for the latest updates and news on fitness, exercise, nutrition and more!