Melt away your Body FAT and up your FITNESS Levels today with our fitness boot camps at Singapore's Lower Seletar Reservoir Park!
*****
Location
Our group fitness boot camps are held at the beautiful and tranquil surroundings of Lower Seletar Reservoir Park - found at the northern end of Singapore. (view map of Lower Seletar Reservoir Park)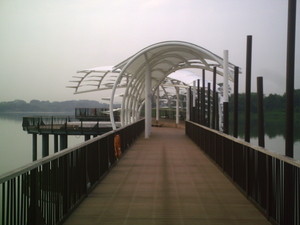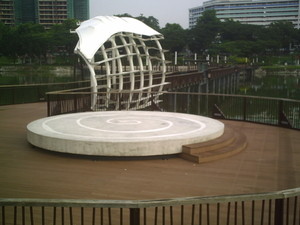 In the event of bad weather, our fitness boot camps will be conducted at Yishun Stadium instead - which is just a stone's throw from the reservoir park. (meeting-point: at the spectator stands just inside the main open entrance)
(Note: a mass SMS will be sent out to notify all participants of any location changes in the event of bad weather )
*****
Schedule
Our fitness boot camps are scheduled on selected mornings from 6.30am to 7.30am and on selected evenings from 7.30pm to 8.30pm.(except for public holidays and other pre-notified dates).
Please register here to be notified of exact days/dates and other details pertaining to this boot camp.
You may also do a status check on this boot camp to see if it is on-going. (note: boot camps will only run when a minimum number of participants are confirmed)
Additional Information:
- Boot camp members are free to attend any sessions, on any days, at any frequency - based on the given schedule!
- All first-time participants to our boot camps are advised to come 15 min earlier in the mornings/evenings for registration and briefing purposes.)
*****
Who Should Attend
ANYONE & EVERYONE who wants to burn fat, get fit and improve their mobility, agility, strength, stamina and overall fitness in a fun, informal and non-intimidating environment!
Having said that, do note that if you have any existing medical conditions and/or above the following ages:
males > 40 years, females > 50 years, you are strongly advised to seek your doctor's clearance before participating in our boot camp training sessions.
*****
What Can I Expect
Our boot camps are packed with challenging, fun and exciting activities which cater to all fitness levels and are suitable for both genders.
The workouts themselves utilize a creative mix of innovative and progressive exercises, games and activities to challenge your body and get you in shape!
Each session's boot camp program varies from workout to workout, and includes cardiovascular, resistance, strength, toning, speed, agility, endurance and stretching exercises.
Your fitness will also be challenged and enhanced with fitness drills, games, circuits, group challenges, races, kickboxing, plyometrics, obstacle courses, and various forms of interval training.
And to ensure close supervision and personal attention to each member, our boot camp enrolment is capped at no more than 15 participants per session.
*****
What To Bring
Just bring along a full water-bottle, an exercise mat, a towel, and of course, yourself!
*****
How Much It Costs
Click on our Fitness Rates/Charges to find out more.
*****
Other Boot Camp Information

Do connect with us on Google +, Twitter, Facebook & Blogger for the latest updates and news on fitness, exercise, nutrition and more!